If you're lucky enough to live in one of the 36 states across the country that is home to commercial apple farms, you know the amazing feeling of biting into a crisp apple on a fall day. There's nothing quite like it! Of all the health tips and tricks out there, eating an apple a day is one that I can really get behind.
Apples are one of my favorite foods, and here's why: apples are an experience. The At Home Chef works hard to create great experiences, and we know a good one when we see it. Back home in Northern Kentucky, picking apples in the autumn is a tradition. We visit our friends at McGlasson Farms (check out their website and their Facebook page!), where they grow fresh fruits and vegetables all year long. The fall is the time to be there, though—families come from miles around to sit and enjoy the farm, select their pumpkins, pick fresh apples, and grab crisp apple cider.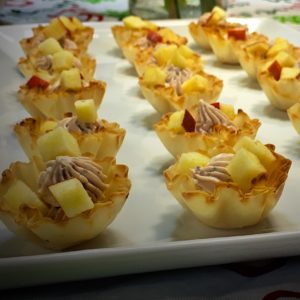 There's something awesome about picking your apples straight from the tree and turning them into whatever you want: fresh applesauce, a classic apple pie, a diced topping for pork chops, or a salad topper. Honestly, we have to plan ahead to make sure we have enough apples to go around—fresh apples go fast in our home!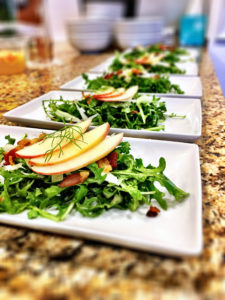 There are a few good things to know about preparing foods with apples.
First: buy more than you think you need. Apples make great, healthy snacks, and they're really easy to throw in a bag. That being said, it also requires two pounds of apples to make a standard, 9″ apple pie. You can easily triple the number of apples you'll need to make homemade applesauce. (Fun fact: the average person eats 65 apples every year!)
Second: buy your apples by the pound. Conventionally grown apples can be enormous, and a recipe can be thrown by varying sizes in apples. If you go to a local farm and select your own apples, you'll see what a normal apple looks like – they're typically much smaller. So if your recipe calls for 3-4 apples, your store-bought honeycrisp and your farm-plucked orchard apple will deliver two very different final products!
Third: Try apples in new ways this fall!
Take advantage of this time of year! Apples are at their best in the fall, and when you find a local orchard, you'll be able to taste the difference. If you're having a fall event, let The At Home Chef help you introduce apple into your menu. We can stick with the classics, or introduce a new twist on America's favorite fruit. So tell us…how do you like them apples?!