Every great chef will tell you that presentation means everything. A chef often spends hours perfecting ingredients, flavors, and pairings. Every ounce of the meal has been reviewed and considered. A chef's job is not over when the cooking is finished. In fact, the transition from cookware to plate may be one of the most important parts of a chef's work.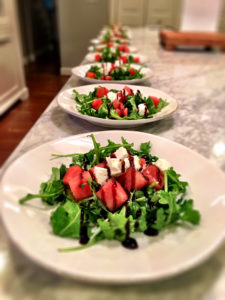 There have been studies that prove the strong connection between the visual appearance of our food and our perceived enjoyment of the food. When food is purposefully arranged on our plates, our brains find the food more flavorful. We perceive our meal to be more expensive when it has been garnished. We find squared slices of meat or fish to be off-putting, and extra drops of sauces or jams as sloppy.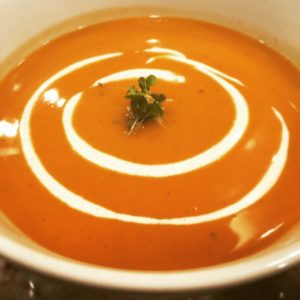 What does all this mean? It means that when it comes to enjoying our food and our meals, the details matter. Over the years, The At Home Chef has picked up a few lessons on plating food that will help you serve a meal that will dazzle and delight. Here are our top three tips on creating a beautiful plate at your next event:
Start with the right plate. Food appears most vibrant against white plates. The lighter the color of your plate, the more your food will stand out against it. Depending on your menu, the size of the plate will also matter. You need a plate that can hold your food, but you don't want a plate so large that the portions look small. Find one where your food can be presented comfortably in the center.
Go up, not out. As you are arranging food on your plate, go for layers that build on top of one another. For instance, if you're serving a classic meat and potatoes dish, plate the meat on top of the potatoes and add garnish or sauce on top of the meat. If you are serving foods that aren't best presented in layers, keep them separate but play with the height of the food. For instance, a scoop of rice can be kept in a high, circular form or a salad can be garnished with vegetables and toppings that add to its height and presentation.
Colors and textures matter. A good general rule of thumb is that there should be some color variation in your meal, no matter what you're serving. Fruits and vegetables are the most natural way to add a great bit of variety to your plate—from the deep blues and purples of berries to vibrant reds and oranges of beets and carrots. If you're preparing a meal like pasta or soup, garnishing it with parsley and a breadstick to offer a change of color as well as texture.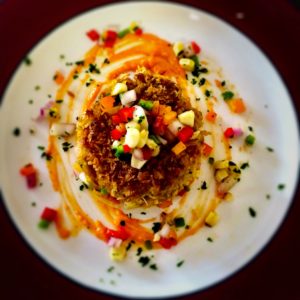 Learning to plate like a professional takes time, and it also means putting a lot of thought and purpose to your preparation. Start with these three basic steps and you can feel confident that your presentation will reflect the effort you put into your meal. The At Home Chef will use the dishes available in your home to plate and serve delicious meals—and we take pride in our attention to detail, especially when it comes to the final, plated dish. Contact us today to schedule The At Home Chef experience!