There are some days that you want to erase from the calendar. You want to just sleep through it and pretend that it never happen. For me that day is June 8th.  June 8th is when I lost my best friend: a man who always had the answers in the toughest times, always had the right words to use when things were not good.  This man was my Dad, a man who worked harder than anyone else, who told you stories that would teach you a lesson and make you laugh to tears.  Did we always see eye to eye? No. In fact, for most of my teenage years I didn't listen to a word he said.  I wish I did. Man, I wish I did.  I lost him when I was just 24. Too soon. I never got to cook for him. I never told him that me owning my business was a direct consequence of him owning his own business.  There is no way I would be here without the lessons he taught me and whispers of encouragement I still hear him give me.
There are some days that you want to erase from the calendar. You want to just sleep through it and pretend that it never happen. For me that day is June 8th.  June 8th is when I lost a mentor: someone who changed my life. A man who told stories that inspired me to be what I am today.  This man was Anthony Bourdain.  When I heard the news early morning on June 8th, I was already struggling in the memory of myDad. Then I heard the news and my heart dropped. When I heard how he died, I burst into tears. I was in disbelief like most of the world.  He had a seemingly perfect life: traveling, eating, and telling stories like only he could. I still ask why, because I refuse to believe it myself.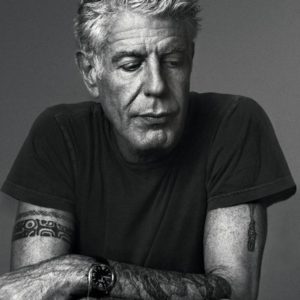 When I was working in my boring office job I often wondered what else was out there in life. What could I discover? What could I create to fill my soul? I learned that, for me, the answer was by cooking for people and crafting their smiles with my hands.  At the time, I didn't know where to start or what to do, but I knew I wanted to cook.  Then I discovered the book that changed my life. A book that after I read it made me immediately made me want to head to a kitchen and commit to cooking, even if it meant making minimum wage.  That book was Kitchen Confidential by Anthony Bourdain. It's his real-life depiction of working in a kitchen.  It wasn't a glorified portrait at all. As a matter of fact, most people after reading it would steer clear from any restaurant.  Not for me. For me it was a calling. I knew I had to cook and change people's lives with my food.
With Tony I was surprised to hear he died by suicide. As I have been quietly processing his death, I realized that I am not really surprised. Most people who are deeply troubled never let anyone in on their pain and loneliness. Reason being is because they are ashamed and afraid to bring anyone in because its mostly a pretty taboo topic even among your own family. I know this because from as long as I can remember I have struggled with depression. There have been times in my life where it feels like I have been in a hole with my hands out, hoping someone could save me as I stand there quietly screaming. For many of my friends and family, this will be news. I never shared it.  I'll admit that there are still hard days. Days when it all feels like too much. I'm incredibly thankful that I have been able to reach out for help, and that there are people and resources who have heard me.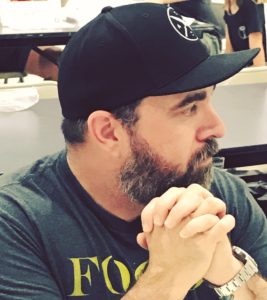 Now, I don't give myself a choice but to get up and power through life head first.  I learned from my Dad that all you can do is your best, you best in everything you do.  I learned from Anthony to get out and travel and see things and eat things that may be questionable in questionable areas.  To never forget it that food and cooking is a noble profession, but it should be always handled with the upmost respect.  To never make yourself bigger than the food, to always find joy in the smiles your food provides. To be grateful for every day.