The 4th of July is the epitome of a summer party. No matter where you live, most 4th of July celebrations look pretty similar: some sort of delicious meat fired up on the grill, lots of cold drinks, America-themed décor, and—of course—great people. But here's the catch: that's the 10,000-foot view of the party. We all know that in reality, the kitchen is a sticky mess from slicing watermelon, some guy is sweating his face off over the grill, and you inevitably run out of ice and someone has to volunteer to go for an ice run.
If you haven't hired The At Home Chef to help with your party, the second scene probably feels a little more realistic than the first. Over the years, I've grown from being "just" a private chef to learning how to become an expert at proper planning. At this point, we've walked dozens and dozens of hosts through the planning process to ensure that their party or special event is going to go off without a hitch. From calculating how much alcohol to have (a frequently asked question) to deciding what to serve as side dishes, a few good pointers can help you plan for your 4th of July party in advance…giving you the chance to actually play a round of cornhole or sit down with a glass of wine and enjoy your friends and family.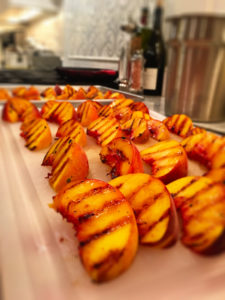 We've said it before and we'll say it again: plan it out! 
If there's anything that I can tell you do to for any event, it's to make a plan days (maybe weeks for the super organized) in advance. I get that you might want to feel like a total grill master and slap on a corny apron and sweat over the meats, but—believe me or not—you don't HAVE to be that host. You can actually throw a great cookout AND do a lot of work in advance. Trust me: people are not there to watch you sweat and run around. They are coming to your home to spend time with you!
So, sweat if you must. But if you want to do things differently, make as many of your sides in advance as you can. A great cookout menu includes a lot of re-heatable items, like baked beans, that you can make ahead of time and put in a pot or pan to simply warm back up. You won't lose quality in taste or flavors if you pick your sides well. For instance, coleslaw might actually taste better if made in advance. A day of letting flavors marinade and really chill down does wonders for the cookout favorite.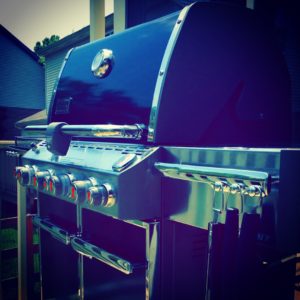 Don't overserve your guests.
There are a couple of life lessons in this one. The responsible person in me needs to remind you to always ensure your guests are being good drinkers and not driving under the influence. The chef in me needs to remind you that you don't need to cook enough food to serve your guests for the week. You only need to serve them for one party—so plan your food accordingly!
I love food. I get how awesome it is to go to a party and have loads of new and delicious food available. We all let ourselves enjoy treats at events. BUT— even I draw the line at some point. I very clearly recall being totally stuffed prior to being served the SECOND meat of the evening at a friend's cookout. And yeah, yeah, yeah—self control and all of that. But it was a small gathering and I didn't want to be rude and turn away the host. But, take my word for it, I could have done without the second course. Remember this: cook quality food over mass quantities of mediocre food. You will save a lot of waste, your guests will eat what they want and love every bite, and you won't be left eating potato salad for five days straight.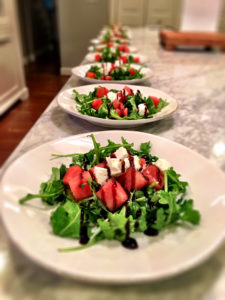 Eliminate work.
Don't get me wrong: I am not afraid of hard work. However, I am afraid of spending so much time doing work that the party or cookout becomes a massive headache and you need a drink just to get through it. Let's all agree not to overthink our events. If you're hosting and you're preparing all of the food, you have total permission to buy prepared sides. Go grab something from the deli at your favorite local market. Look for quality ingredients when you do, but these prepped side dishes can be delicious and save you loads of energy. Also, eliminate the work of trying to coordinate all of your guests' side dish contributions. If you want people to bring something with them, make it something that is easy to pass off, and only ask a couple of people to help (or only take up a few people on the offer to bring something with them). No party needs thirteen jello desserts. Instead, focus on having three or four great side dishes that you buy or make yourself.
Finally, a personal request: clean your grill in advance. It's so easy to do it a day or two before your cookout. Then, when you fire it up, you can put your main meats and vegetables on and get back to your guests. No need to do manual labor at your party!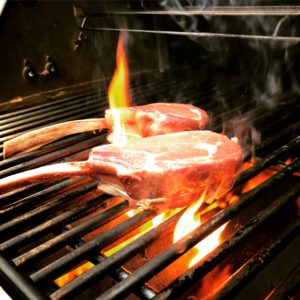 Be you, not Ina Garten.
I love Ina Garten, but she is one-of-a-kind, which means you really, really don't need to try to be her. Or Julia Childs. Or Guy Fieri (talk to me later about this one). Just be you. Enjoy your people. Spend time with them and serve them good food and have a good drink. That's all. The rest should be a breeze.
And finally, remember that we're celebrating Independence Day.
Take a moment to appreciate our country. There's a lot going on in our nation right now, and we need to take every opportunity we have to stop, reflect, and consider the values that define who we are as a people and a country.
Have fun, be safe.