Ever since I was a kid, my mom and dad raised me to be grateful. We didn't have a fancy life, but we had everything we needed because my parents worked hard. I learned from an early age that when you have gratitude, you have a lot of power. Gratitude makes it hard to keep a negative perspective for very long. Even some of the most challenging situations can be seen through a lens of gratitude, and that's something that we strive to uphold in our business.
I take gratitude very seriously…in fact, I tattooed the phrase "Be Grateful" on my arm because I believe in that life view so strongly in my personal life and my business. It helps me keep a mindset of hard work and productivity, and the fact that even on my hardest days, I can be grateful for the opportunity to improve.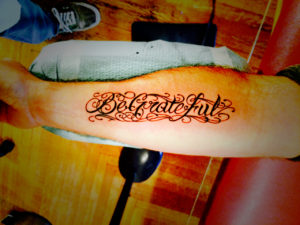 We're grateful for our clients and the work they entrust to us. Even if time gets crunched…or we're up late working and then up early the next day to prep for another event…or we're stressed about managing and running a business…or about finding new ways to network or market our services—it's all an opportunity to practice gratitude. I'm grateful for the chance to do what I love. I'm grateful for clients who are loyal and keep us on their social calendar throughout the year. I'm grateful to have a wife who believes in my talents and can help me run events and supports our business. I'm grateful for my health and the fact that I can do the physical work required to plan and prep and cook and serve amazing events.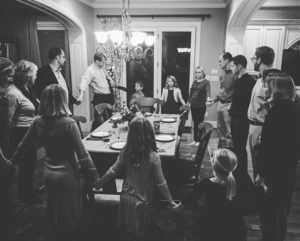 At the end of the day, gratitude is perhaps the strongest core value of our business because it's the strongest core value of my personal life. So, with gratitude in mind, I'm thankful for you! Tell me: how can The At Home Chef help you celebrate the people and moments that you're grateful for?