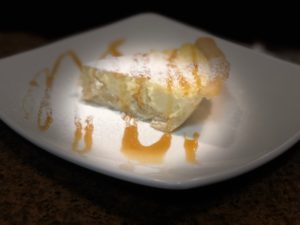 To help kick off National Celiac Disease Awareness Month, I'll be going on Fox19's morning show tomorrow morning to share one of my favorite recipes for a gluten-free apple pie cheesecake. Tune in to hear how I adapt my cooking to a gluten-free pie crust and still keep it gourmet. Here's the recipe:
Crust:
1 Wholly Wholesome Gluten Free 9" pie shell
Apple Pie Layer:
4 cups apples, peeled and sliced
½ lemon, juiced
3 Tbsp. sugar
1 Tbsp. sweet rice flour (or all-purpose)
1 teaspoon cinnamon
¼ teaspoon nutmeg
¼ teaspoon salt
Cheesecake Layer:
3, 8 oz. packages of cream cheese, room temperature
1 1/3 cup sugar
3 Tbsp. sweet rice flour or cornstarch
½ cup whole milk
3 large eggs
¾ cup sour cream
1 teaspoon vanilla
Directions:
Mix together sliced apples, lemon juice, sugar, flour, cinnamon, nutmeg and salt. Stir to coat. Spread apples in an even layer over bottom of the crust.
In a large mixing bowl, cream butter, sugar and flour. Mix in the milk, and then add in one egg at a time, mixing after each until incorporated. Stir in sour cream and vanilla.  Pour cream cheese mixture over the top of the apples.
Bake at 350 degrees F for 60-70 minutes until center is almost set.  Turn the oven off and allow to sit in the oven with the door closed for at least 3 hours or until room temperature. Store in fridge until ready to serve. Serve topped with caramel sauce.
Providing foods that your gluten-intolerant family and friends can enjoy is not all that difficult to do. Many of your favorite signature recipes can easily be made as a gluten-free version without sacrificing any of the taste.
Questions? Want to book a party? Contact me here.