What a wonderful time my staff and I had the Waton's Springtime Celebration.  What a beautiful showroom of wonderful grills and indoor and outdoor furniture.  It was a perfect backdrop to demo these two recipes.  Give them a try, they are super easy and sure to please the next time you get asked to host a grill out.  Again thank you to everyone who came out, it was an honor to meet each one of you.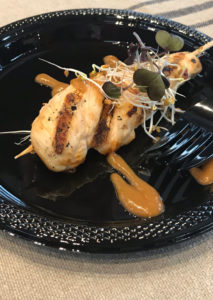 Chicken Satay

Why go out for Thai food when you can make it at home?  These delicious Thai-style chicken satay are made of chicken marinated in a peanut sauce, and then grilled.
Ingredients
2 tablespoons creamy peanut butter
1/2 cup soy sauce
1/2 cup lemon or lime juice
1 tablespoon brown sugar
2 tablespoons curry powder
2 cloves garlic, chopped
1 teaspoon hot pepper sauce
6 skinless, boneless chicken breast halves
Instructions
In a mixing bowl, combine peanut butter, soy sauce, lime juice, brown sugar, curry powder, garlic and hot pepper sauce.
Place the chicken breasts in the marinade and refrigerate.
Let the chicken marinate at least 2 hours, overnight is best.
Preheat a grill to high heat.
Weave the chicken onto skewers, then grill for 5 minutes per side.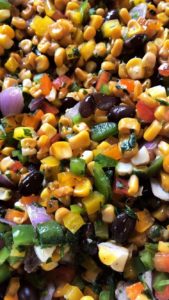 Grilled Corn Salsa with Black Beans, Tri-Peppers, Lime, and Cilantro
Ingredients
2 large ears of corn
1/4 cup chopped sweet red pepper
1/4 cup chopped sweet orange pepper
1/4 cup chopped sweet yellow pepper
1/4 cup chopped green pepper
1/4 cup vegetable oil
2 garlic cloves, chopped
1 teaspoon ground cumin
1 teaspoon chili powder
Dash salt
3 tablespoons or lime
1 can (15 ounces) black beans, rinsed and drained
1 tablespoon minced fresh cilantro
Instructions
To grill corn (preferably over charcoal for best flavor), leave the husk on and grill it first until charred. Then remove the husk and strings and put it back on the grill for a little color – 2-3 minutes – rolling to heat all sides.
Once grilled, slice corn off of the cob and add to bowl with remaining ingredients and stir.
Taste and adjust seasonings as needed, adding more salt, pepper, or lime juice for added flavor.
Serve immediately. Will keep covered in the fridge for several days, but is best when fresh.
Please feel free to contact me with any questions!