One of our favorite parts of creating events for customers is partnering with them to create a custom menu for their experience. In fact, every event begins with a custom menu, meaning there is literally no other event before or after yours that will offer the exact same combination of tastes, flavors, or foods. Your event will always be one of a kind—just the way we like it!
What is a custom menu?
When we create custom menus, we mean that the final dishes that we serve are selected and prepared specifically for your goals. If you want to pick a theme for a birthday party or serve only particular styles of food at a baby shower, we will find a way to make it happen. From exploring certain styles of cuisine to prepping food a particular way, you get to call the shots on how your experience unfolds.
What if I don't want to choose?
The beauty of a custom menu is that you can be as involved—or uninvolved—as you want to be! If you have no preferences for the kind of food served at your event, our team can guide the process. We will consider what food is seasonal, what will be available around the time of your event, and where we can source the selections. If there's a food you love (we have favorites, too), we'll work hard to make it happen. You get to have the final decision about the menu if you want, or you can be as surprised and delighted as your guests during your event.
What happens if I want something that's out of season?
We've got you covered! We've created a great network of local markets and farmers, but we also know that there are limitations to what we can buy locally. For instance, if we're prepping an event in Kentucky, getting seafood plucked straight from the waters is a challenge. But, we have an incredible list of people, vendors, and buyers who can get us what you want. If you want lobster in January in Cincinnati, you'll get it.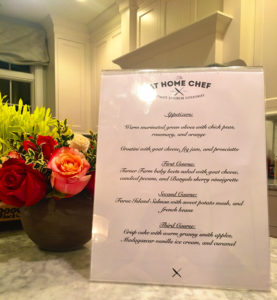 That being said, sourcing our foods from local (and, when possible, organic) markets is an important value of The At Home Chef. We'll get creative with our menu selection to encourage incorporating fresh, homegrown produce whenever we can—after all, we're not afraid of dirt!
What about special dietary needs?
We'll cover this in more detail in an upcoming blog. For now, know that your satisfaction drives our decisions, and we truly believe that your menu should be a reflection of you. We can create vegan, vegetarian, and other specific dishes—or entire dinners—to respect your values and/or preferences. Just make sure you let us know in advance so we can spend time creating a custom menu just for you.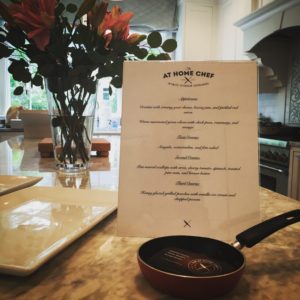 All our Services have one thing in common: a dedication to an exceptional dining experience. From elegant dinner parties to surprise birthday parties, we want you to be able to step back and enjoy yourself. Don't forget: when the details matter, trust The At Home Chef!